Ambient Light Rejection Screen as unique and affordable technology for your presentations
If you are one of those who are currently in need of improving or changing the visualization of your work space, you might be interested in our projection technology from UGO! Media. This solution is connected to a unique projection screen that can do small miracles in light reflections. It is conveniently accessible to anyone…
Read more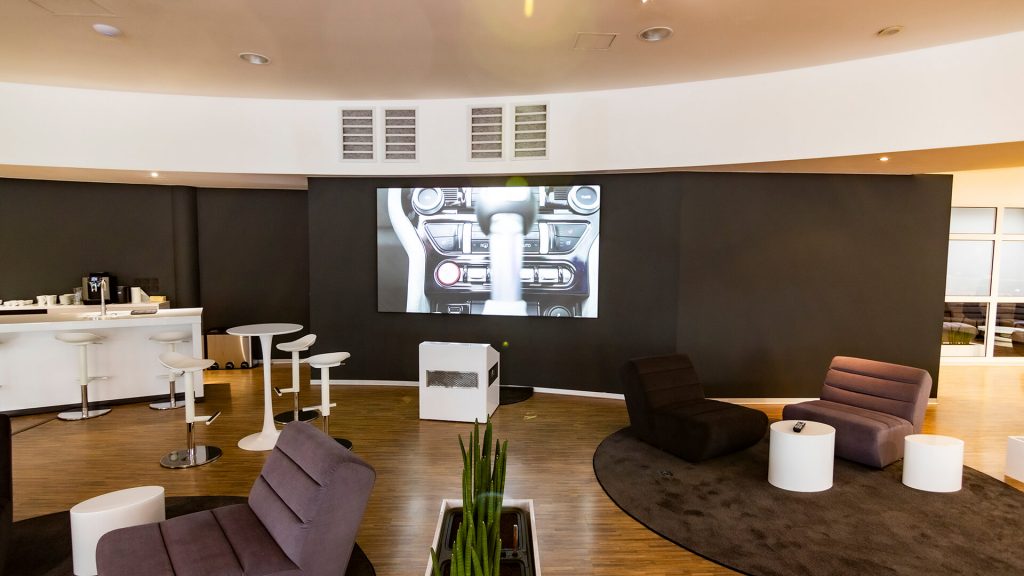 If you are one of those who are currently in need of improving or changing the visualization of your work space, you might be interested in our projection technology from UGO! Media. This solution is connected to a unique projection screen that can do small miracles in light reflections. It is conveniently accessible to anyone who wants to create an unforgettable design experience for the customer. Ambient Light Rejection is a top-notch projection screen that offers bright colors, high contrast, high resolution, and is definitely one of those solutions worth paying attention to. Just like our clients did in the hospital Bulovka, Czech Television or in car showroom Auto IN in Průhonice.
Everyone now feels the need to communicate well with a client, customer, visitor of an important event or in any place of business in that fact. It is a common feeling that everyone who wants to succeed in their business needs to get an attention of their client. The question remains which ways to choose to go in a name of fantastic presentation of a brand we want to represent. Attention is logically pointed to the direction of costs vs. quality of the technology and everyone also want to gain an excellent support for its flawless operation. No one wants to use new technology tools without excellent service for its perfect functioning. Let us now present one of the solutions that balances on the edge of perfection of all these variables.
If you don't want to find yourself in a position where you have to solve an expensive solution within comparison between LED TV's and LED projection screens, focus on ALR PRISM technology from the UGO! Media team and we will show you why!
Many facts speaks for itself. Let's now consider some costs of such a solution. Small example speaks for itself. Lets consider using a 100-inch LCD TV for your presentation, in that case it is necessary to take into account that you will not get below CZK 400,000, and we are not talking about that large projection screen. If you want a 120-inch LED panel that achieves a better projection screen you need to count with costs that don't drop below 1.5 million CZK.
So where does it leave us when you get into a situation where you want to use a much larger projection area, but you want to stay on the ground with the costs. Finding good compromises is appropriate approach in this case. Let's now look at the other possibility we want to offer you in UGO! Media.
Our solution is combination of a powerful Epson projector with the latest ultra-short 0.37 projection lens, and a special ALR PRISM projection screen. Concerns about the indistinctness of projection in a daylight are eliminated by our special technology, which achieves a brilliantly sharp image.
And how is this possible? We use high-quality Epson projectors in our comprehensive projection solutions within UGO! Media. ALR PRISM screen is designed for the latest Epson projectors with an ultra-short projection lens. These devices are unique as they primarily provide high-quality video output by 3LCD technology. The resulting image has high brightness, true colors and great contrast. The main advantages of the Epson EB-805F projector include the high luminosity of 5,000 ANSI lumens, 4K resolution, practical dimensions and the ability to operate 24/7. Overall reliability and excellent technical support are the absolute standard for Epson devices.
UGO! Media team complemented the solution with an ALR PRISM projection screen, which is very special as it consists of 3D triangles on which the image is projected from below position and ultrashort distance from the powerful Epson EB-L1075U laser projector. When ambient light from the surroundings hits the upper black part of those triangles this unique projection creates an effect where the light is essentially absorbed. The resulting image of projection is perfectly detailed, clear and contrasting in most of lighting conditions. This Ambient Light Rejection screen is in fact very unique as it can simply functioning even in conditions of high levels of ambient light and still passes on an experience which was intended to create by the presentation itself. Therefore, all concerns about the indistinct projection falls off the table, and the only thing which is left to consider is the cost and the overall appearance of such a projection within the environment where the entire solution is installed.
The costs of purchasing of this set are significantly lower compared to a conventional LED panel solution with the same specifications. It is really an ideal solution for any showroom, conference room or shop. It's great also for a classic commercial purpose, this solution with a 120-inch projection screen is pleasantly available and can be purchased for as little as CZK 150,000, if we use the above-mentioned EB-805F projector. This technology can also work in very high ambient light when using professional projectors with a UST lens. In that case, client can install a 120-inch projection screen with an EB-L1075U projector.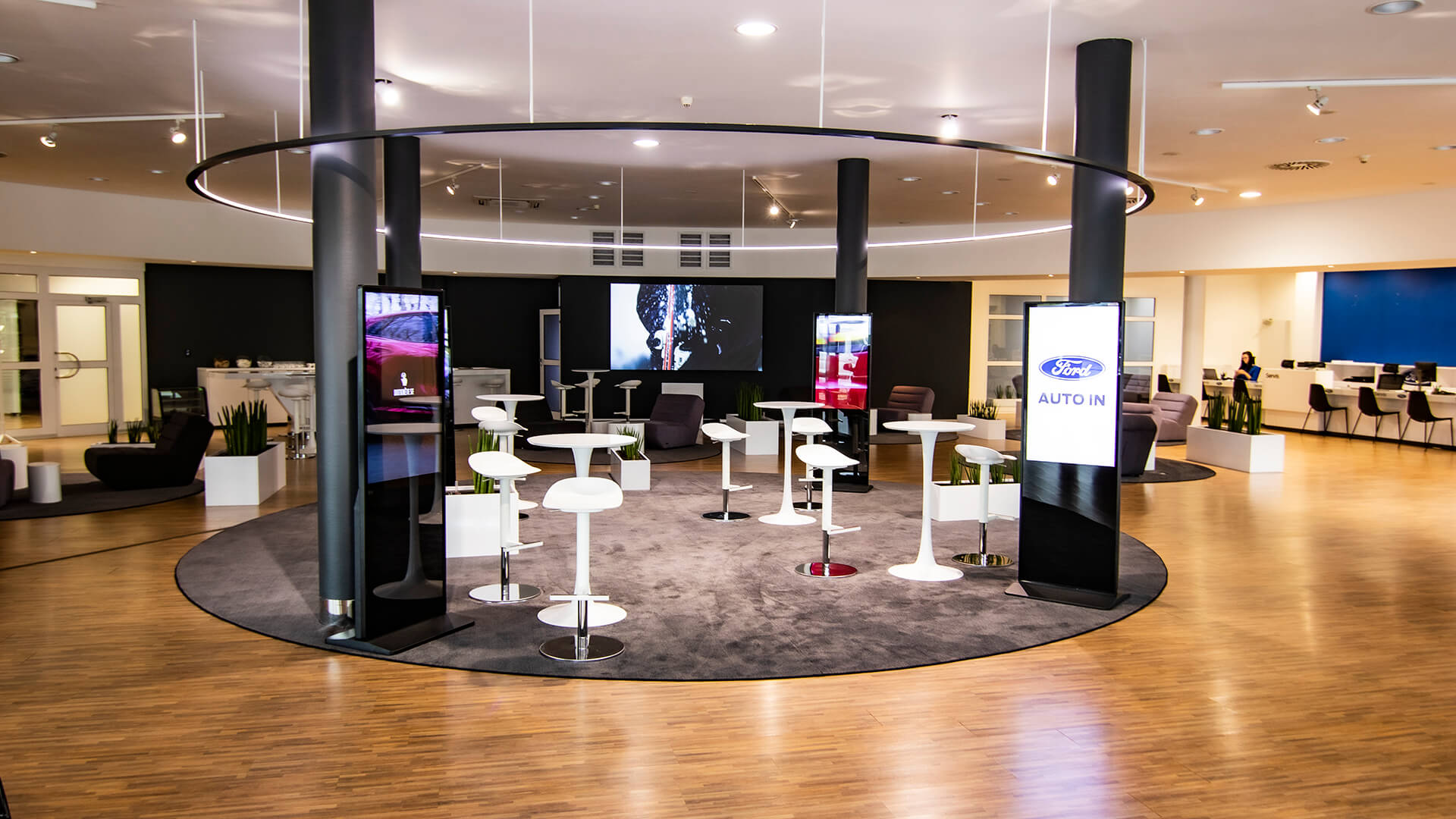 In overall balance, we need to take in notice suitable placement of the projector and therefore UGO! Media is providing necessary support for setting up the projection. The already implemented solution for the Auto IN showroom in Prague / Průhonice has shown that it is also necessary to take into account the elegant placement of a projector and ALR SCREEN and we always have in mind that we want the whole solution look good within your space of business. That's why we placed the Epson EB-L1075U projector and its cables in a design box with a glass frame. The projector is then placed in the upper part of the box, where it is covered with an anti-reflective museum glass, through which light from the projector passes to the projection surface without any deformation and problems. The whole solution is not only clean design but it is also highly functional, as it protects the projector from dust and potential damage from external influences.
In UGO! Media we believe that it is very important to combine all of the mentioned factors as it brings us success with our clients from different types of segments. This presented technology will be also used in the EXPO 2020 exhibition in Dubai, which is planned for the autumn of this year and whole solution will be use in the version of projectors with UST lens. For our clients, we manage to implement these projections in a more accessible form, however, under conditions of high quality, which remains an integral part of our philosophy.
If you are interested in this product, here you can find the technical specification of the product and the form for sending an offer: https://www.ugo-media.eu/en/products/projection-screens/ultra-short-projection-screens/ambient-light-rejection-screen/